What a Delightful Surprise….
June 02, 2011
Griff's Burger Bar (Griff's Hamburgers) is a regional fast food chain founded in the early 1960s by Griff's of America, Inc. of Kansas City, Missouri. At one time they had locations nationwide with the majority in the South near highway exits.
The restaurant buildings were of a patented A-frame design, produced by Valentine Diners of Wichita, Kansas. Later restaurants sported more conventional architecture. A bright yellow sign read HAMBURGERS in big block capitals. The restaurants offered both drive-thrus and patio dining.
Most of the stores were located in high traffic locations, such as near a highway off-ramp, or along Route 66.
Corporate headquarters for Griff's of America is now in Dallas, Texas, and stores remain open in Arvada, Colorado, Denver, Colorado; Bossier City, Louisiana; Shreveport, Louisiana; Sedalia, Missouri; Albuquerque, New Mexico; Dallas, Texas; Fort Worth, Texas; Haltom City, Texas; Garland, Texas; Irving, Texas; Mesquite, Texas; and San Antonio, Texas. There is also one in Ruston, Louisiana.
The restaurant chain was featured in three installments of the Zippy the Pinhead comic strip, on November 15, 2004 February 10, 2005, December 19, 2006, and September 2, 2007.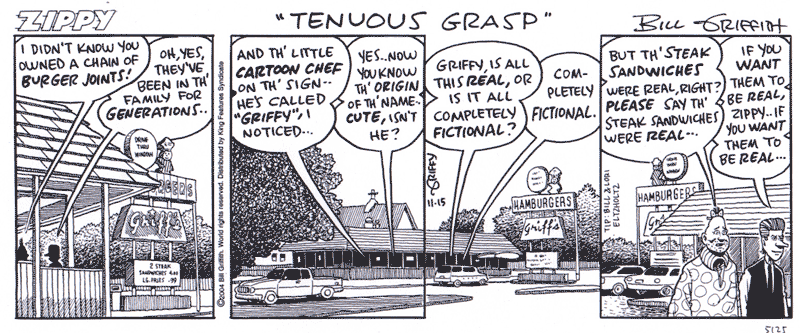 Zippy notwithstanding, our local Griff's is indeed on Route 66. I was chauffeured there last weekend by my gastronome friend Barbara H., who shares a passion for Green Chile Cheeseburgers with me, and decided that Griff's GCCB needed a chance to crack my Top Ten GCCB List.
You can order these burgers in several sizes: regular or giant. The giant is about six-inches across, and I recommend that you get a double with American cheese and hot chopped chiles. Competition style (no salad-like adornments, and it goes without saying that the use of mustard or ketchup is a mortal sin here in the Land of Enchantment. Medium-rare retains all the juices.
Barbara carried the tray to an outside picnic table and sat down, staring at me, waiting to see the expression on my face as I bit into this creation. First bite brought an explosion of great tastes — juicy beef, correctly gloppy cheese, and that unmistakable taste (and aroma) of flame-roasted green chiles. The chiles left a piquant aftertaste in the back of my mouth, and were delicious. As I chewed my way through this wonder, the chiles increased the heat sensation and by the time I was nearly finished, they were in full afterburner mode. The last few bites did a delightful number on my tongue. I am a chilehead. This was sensational. [For chile wimps, you can order mild chiles. This review does not apply to that untested abomination.]
Barbara giggled, "I knew you would love it."
Love it? It instantly rocketed its way to a coveted fifth place on my GCCB Hall of Fame List. Just behind Sparky's, Owl, Bobcat, and the local Owl. That's rarefied territory.
Griff's is a chain that doesn't know that it's a chain. Ryan Scott need not break this one. And my friend and esteemed colleague Harry McGoodrich will surely wax poetic about this GCCB. I might even let him borrow my wax pot.
Griff's Hamburgers
 (505) 255-6130
8516 Central Ave SE
Albuquerque, NM 87108